Whether it's the cozy chair in your garden or the antique tea table on the lawn, you must clean them to keep them fresh. Also, the porch, deck, and other outdoor surfaces need to be washed.
For cleaning this outdoor stuff and areas, generally, people use cleaning agents such as Simple Green as they do the job perfectly.
During cleaning it's possible for the cleaning solution to drop on your plants or lawn grass. So you may worry if this cleaner can ruin your greenery. To make your doubts clear we'll here explain briefly whether Simple Green is safe for your plants and grass.
Is simple green safe for plants & grass?
Simple green is safe for plants and grass as it doesn't contain toxic chemicals such as bleach, ammonia, or petroleum distillates. Being a biodegradable product, this cleaner doesn't cause harm to landscapes thus grass and plants are safe if they come in contact with the solution.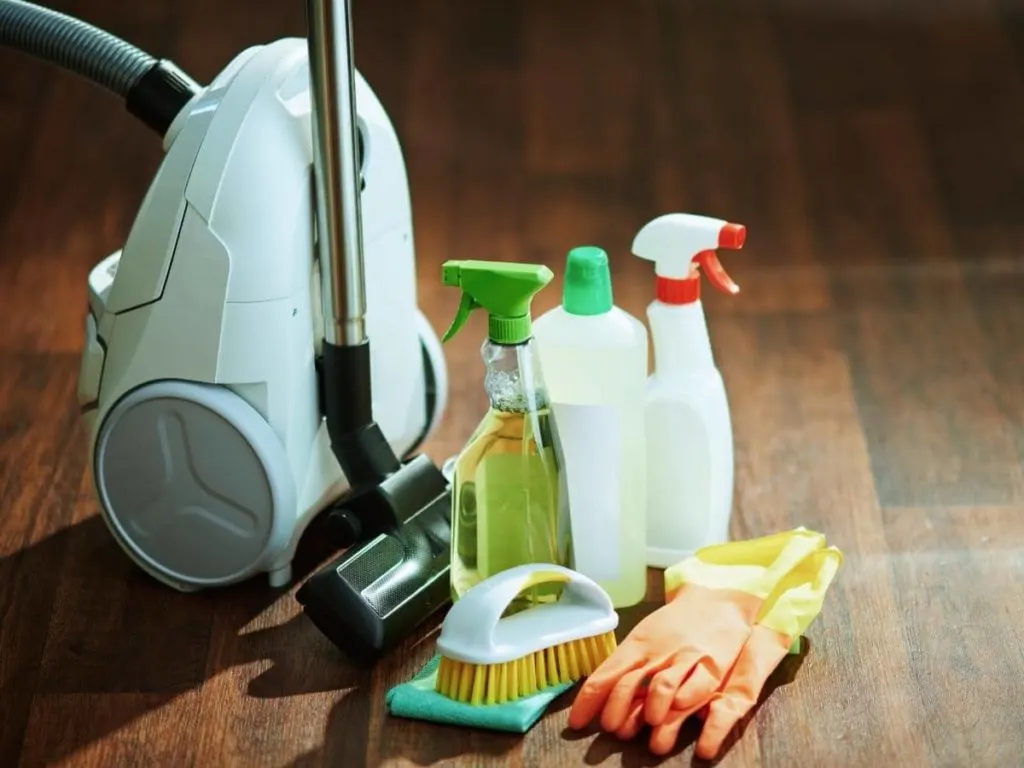 Simple green is a renowned name when comes to cleaning. This all-purpose cleaner can effectively remove dirt and grease from any washable surfaces including outdoor areas, patio, yard furniture, garage, etc.
But since cleaners can splash the plants during cleaning sessions or get through grass people get worried. Because most cleaning agents are filled with harsh chemicals, their presence on greeneries such as plants or lawn grass can be proved toxic.
That's why Simple Green users wonder if cleaning with this product too will harm their plants or damage the grass. Let's know the truth!
Plants:
Plants can get injured if cleaners containing ammonia, strong acid, or bleach get in their surface or roots. Harsh chemicals can destroy the wax surface of a plants' leaf while the roots can burn to consume the chemicals.
Thankfully Simple Green doesn't contain ingredients like petroleum distillates, ammonia, or bleach. So even if you accidentally spill a little Simple Green on your plants it won't be risky for them.
Instead, this biodegradable cleaner will keep the soil moisture absorbed by the land.
Grass:
A lawn full of green and fresh grass feels like a luxury. But while cleaning the yard or outdoor furniture with Simple Green cleaner, the grass may have to taste some of the cleaners.
But since Simple Green doesn't contain chemicals like bleach that most toxic cleaners have it won't burn or discolor the grass. Moreover, it holds the moisture in the land when pushed into the soil by grass.
Is simple green toxic? Is simple green harmful to plants?
Simple green isn't toxic. It's a cleaner that's friendly to the environment.
Simple green is a biodegradable cleaner that's certified as non-toxic. It includes no bleach, ammonia, or petroleum distillates. So it won't harm the environment, humans, or pets.
But due to a solvent 2-butoxyethanol, used in Simple Green, it may cause irritation if gets in the eyes or consumed. Otherwise Simple Green is safe to use indoors and outdoors.
Just the way Simple Green is safe for humans, it's safe for plants too.
Cleaners that have ammonia, phthalates, or petroleum distillates such as benzene, naphtha, etc. are dangerous for plants because they destroy trees' natural barrier, damage their roots and disrupt nutrient consumption.
Simple Green doesn't have any such chemicals instead it contains wetting agents that keep the land hydrated. So it's non-toxic to plants, especially when diluted.
Is Simple Green Garden Safe?
Simple Green is a great choice when you want to clean your yard, garage, or outdoor furniture. It's much powerful against grease, dirt, and stains. So you can clean any surface using this all-purpose cleaner.
While doing outdoor cleaning with Simple Green, a few drops may dampen your garden. Since harsh chemicals in most cleaners are known for damaging soil and trees, it's common to get worried in such cases.
But gladly, Simple Green will not harm your garden even if you accidentally pour some good amount on the land. It's biodegradable and includes no harmful chemicals that can damage plants, flowers, or grass.
Simple Green is made with the best possible eco-friendly ingredients that are effective against dirt and at the same time gentle on nature. Most ingredients in this cleaner are water-based and some are naturally derived. So it's highly garden safe.
Three reasons why simple green is safe around plants and grass
Simple Green claims to be a safe cleaner for trees, plants, and grass. And the reason is the absence of some toxic ingredients in this cleaner,
Let's know in brief!
It has no bleach:
Bleach is considered one of the most harmful chemicals for plants. It contains chlorine in an intense amount and can burn plants and grass. Most cleaners use bleach so when used around the garden, they affect plants' roots and burn the grass.
The simple Green cleaner is unique as it contains zero bleach. It has cleaning agents like Tetrasodium, Sodium Carbonate in a moderate amount that's non-toxic to nature.
It's ammonia-free:
Though ammonia is helpful for plants too much of it can finish them off. Cleaners that contain ammonia in a large quantity can blacken roots, burn the tip of the leaves, and finally destroy the tree or grass when absorbed in the soil.
Since Simple Green is totally ammonia-free, there's no chance of this kind of incident. Your favorite plants and lawn are safe with this cleaner.
It's free of petroleum distillates:
Petroleum distillates like mineral oil, benzene is another reason many cleaners become toxic to nature. When present in a great quantity, these ingredients interrupt the nutrient absorption of trees and grass. Thus they turn brown.
Simple Green containing no petroleum distillates is absolutely safe for using around nature. Neither it disturbs any natural process nor injures the plants or grass.
What ingredients are in Simple Green?
Before you make up your mind to have your hands on this popular all-purpose cleaner Simple Green, you may want to go through the ingredient list for the last-minute check. So here it is:
Water:
Simple Green contains a great amount of water since it works super fine as a base for any chemical-based cleaning solution.
Tetra Sodium:
This naturally-derived ingredient is commonly found in cleaning products. It reduces the surface tension of water for a short time. Thus grease is cleaned off quickly.
Sodium Citrate:
Sodium Citrate here is added to maintain the shelf life of this cleaner. So that the product can be used for a good time.
Sodium Carbonate:
Sodium Carbonate balances the pH of Simple Green cleaner along with other ingredients present there.
Citric acid:
It disinfects the surface while cleaning stains and rust. Citric acid also helps to maintain the quality of the cleaner.
Alcohol Ethoxylated:
This active ingredient that works as an emulsifier helps the solution spread equally all around the surface where you want to do the cleaning.
Fragrance:
Simple Green contains a mild fragrance. The scent is not proved harmful till now, instead, users love its fragrance while cleaning.
How to use simple green around plants and grass?
Simple Green all-purpose cleaner is a biodegradable cleaner that works powerfully against grease, stains, and dirt. It can be used both indoor and outdoor.
This cleaner acts best when you use it correctly. Here we've shared a few steps, following what you can use this cleanser around plants and grass.
Take clean water:
Before using Simple Green on a dirty surface take around 30 ounces of clean water.
Dilute the solution:
It's important to mix the cleaner with water for a better experience. With the previous amount of water mix one ounce of the solution.
For deeper stains mix three ounces of Simple Green solution with 30 ounces of water.
Mix well:
Shake the bottle a few times to make sure the solution is diluted perfectly.
Use a spray bottle:
For an even spread on the dirty surface, it's good to apply the cleaner through a spray bottle. You can use Simple Green's spray container or add a spray nozzle to any bottle.
Spray the cleaner:
Spray the cleaner evenly over the surface. Don't panic if it spills on your plants or swamps the grass in the garden. Simple Green is safe for greens.
Wipe gently:
Wipe every stain or grease gently from the surface and then rinse with water.
Rinse off the plants and grass:
If you notice the cleaner on plants or on the lawn, wash it off with running water. The cleaner will not harm the land.
Final Thoughts:
Simple Green is a non-toxic cleaner that can be used around plants and grass. This all-purpose cleaner is free of harmful ingredients that can cause damage to nature. Made with some non-poisonous chemicals, this is effective against dirt and at the same time safe to use around plants and grass.