Lord Varys once said 'A small man can cast a very large shadow'. Similarly a plant may seem small and dainty above ground but underneath it could have the most extensive root that spans many meters and goes just as deep.
And we are going to find out if ficus falls in that category.
Ficus root system explained
Ficus roots are very invasive. A proper plan should be drawn up to decide where to plant them because they are not only invasive but strong enough to do considerable damage to pipes and even concrete. Planting them haphazardly can prove to have dire consequences that can be difficult to reverse.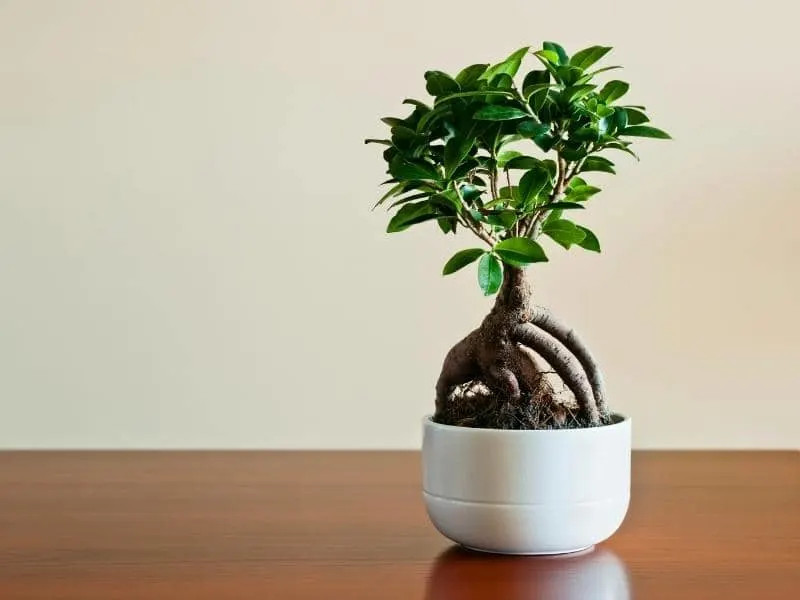 The root of the ficus plant is far larger than the plant itself. The size of the plant is not an indication of the size of the root of the ficus plant.
This leads to a lot of people committing the mistake of planting ficus plants wherever they find a free spot of land.
But this is very foolish and by the time they start to realize the mistake, it is way too late and some of the damage that the ficus root system causes will prove to be very costly and time consuming to fix.
Everything we have mentioned above may seem dramatic but honestly the root of the ficus plant reaches far and wide and things like pipes and other underground utilities do not stop them.
In reality, the root of ficus plants is so strong, they end up damaging these. Some of which are left in such bad shape that the only option left is to replace the whole system completely.
The damage does not end here though because ficus root systems are also known to crack sidewalks and even damage the foundations of many buildings! The severity of the damages are hard to imagine when one looks at the ficus plant.
However, there is an extensive variety of ficus plants that come with their own unique feathers and differences. So, how about we find out whether they are all invasive or not?!
Standard ficus:
The root of standard ficus can be very invasive. It is not a good idea to plant them without prior foresight because as they grow they extend at a rapid pace and have no sense of boundaries.
The root system extends far and beyond and it is so strong that the root does not need to stop when it faces an obstacle in the way such as a pipe or even the sidewalk when it begins to grow upward but instead it destroys it to continue the path it was headed towards.
Green island ficus:
The green island ficus which is also known as the ficus microcarpa has an invasive root system. The plant is known to grow at a slow pace.
The parts of the plant that are above ground grow while the root system below gradually develops a very intricate and invasive pattern. They end up damaging the objects that stand in the way to accommodate themselves.
Ficus benjamina:
Ficus benjamina has very invasive roots and unfortunately they grow and extend rapidly. Therefore, if they are planted in the wrong place, they will very quickly damage things in the neighboring area.
As we are already aware they can crack sidewalks, driveways, roads and also the pipes and drains that are bound to get in the way of their root system.
This makes it pertinent to be aware of the place ficus benjamina is planted in. It is highly discouraged to plant this tree from the mulberry family anywhere where there are houses nearby.
Ficus flash:
Similar to the other trees from the same family, ficus flash also has a very invasive root system that grows in a vigorous manner. This makes it unsuitable for a lot of places, especially the gardens in residential areas.
However, a fun fact about the ficus flash plants is that skateboarders seem very fond of them because they constantly lift the nearby sidewalks of the places they are planted in.
Ficus figaro:
It will come as no surprise that ficus figaro also comes with roots that are very invasive. Most people prefer to keep them confined in a pot because when planted in an area with well-draining soil, it thrives both up top and bottom.
While the leaves and foliage grow, the roots below extend and expand gradually too.
Therefore, it is important to find the right place to plant it or if you have planted it too close to a house or building then take the time to maintain it to stop it from buckling sidewalks or the building foundations.
Ficus nitida:
Ficus nitida is a tree that provides shade for humans and animals when it fully matures but it is not recommended to plant it here houses or concrete roads. Because the roots of ficus nitida can be horribly invasive and also very strong.
It can be harmful to pipes or underground sewage systems. And we are all aware how costly they can be to repair. In order to avoid this, it is best to plant ficus nitida with a solid plan to ensure it is able to grow and thrive instead of getting in the way.
Ficus pumila:
Ficus pumila does not come with invasive roots. Instead, it has adventitious roots.
The roots of ficus pumila can grow in a variety of different soils. They grow fast and in every direction but the roots are fine and fragile unlike the standard ficus roots.
Ficus rubiginosa:
Ficus rubiginosa also known as the port jackson fig has very invasive roots like the other trees from the same family.
It is native of eastern Australia and is not commonly grown in residential gardens or areas.
It has high tolerance levels when it comes to drought and shade which means it can thrive in even the harshest conditions. In England, they are planted in a smaller scale inside of a greenhouse where it can be easily controlled.
Ficus tuffi:
Despite having such a cute name, ficus tuffi is also highly invasive. As it grows and matures, it will begin to spread out its tentacle-like roots in all directions and destroy the things they face in their paths be it pipes or drains.
But that's not all, they even begin to start growing up and this results in the sidewalks being lifted. Thus, many people dislike this tree and keep it away from highly populated areas because of the costly damages it has the potential of causing.
Does Ficus have deep roots?
By now we are aware how far ficus roots can expand and extend but they do not go that deep into the ground. They only travel a few feet downward and the progression is very slow and takes years for the roots to reach deeper into the ground.
This may seem surprising because ficus roots are known to start growing aboveground by lifting sidewalks or curbs but they don't seem too keen on extending their root system deep into the earth.
How Deep Are Ficus Roots?
Ficus roots usually go 1 to 3 feet deep. The roots will extend only by 5 to 10cm per year. Moisture plays a prominent role in how deep the roots will go.
But ultimately they do not travel too deep because ficus are shallow rooted plants. So, the chances of them lifting above the ground is more than them extending their roots deep into the ground.
Can Ficus roots damage foundation or pipes?
The root system of a fully mature ficus tree is invasive and also very strong. If they come upon any pipes or underground drainage system in their path, they will damage it to keep expanding their roots.
Sometimes the pipes and underground utilities get damaged so badly that the whole thing would need to get replaced.
Similarly, ficus root is also known to damage the foundation of buildings. This occurs because the roots are shallow and invasive, at one point they start to spread upwards while spreading wide as well.
During this upwards growth, they tend to lift up the foundations and sidewalks which causes damage to it.
Do Ficus spread or multiply?
Ficus plants multiply by the process of propagation. They are propagated by cutting the stems. New ficus plants are able to grow from these cuttings. They multiply from one plant to many more. And each new plant will develop its own separate root system.
Final Thoughts
Ficus plants come with roots that are invasive and with strength that is unmatched as well. They spread wide and it is difficult to stop their progression once it begins. It can also cause significant damage to pipes and sidewalks. So, it would be wise to plant ficus trees with prior planning.