If you plant arborvitae trees in your garden, you will love the green beauty. It's a bushy tree that can be controlled and grown in a closed pot. But the planting system and growing method would be different.
When you have other plants in your garden, you cannot plant arborvitae plants willingly. You must consider planning and then plant the arborvitae plants. Then, they will give you the best experience growing these trees.
Arborvitae Root System Explained
Arborvitae root system is shallow and fibrous. So, the arborvitae root is not invasive like other trees. If you plant them in a closed pot, they will give you the best growing experience. But the differences would be their root system and growing system. You need to control the root system strongly.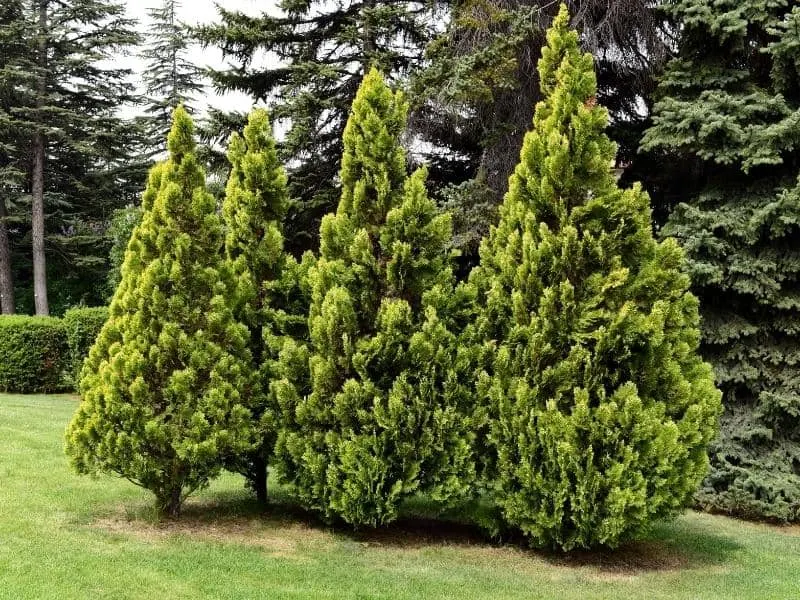 Some gardeners claim to have invasive arborvitae plants in their garden. They freely plant these trees and don't control their roots. Therefore, these plants will have a chance to spread their roots nearby. That's the reason why they find these tree roots invasive.
But the thing will be different if you consider all types of arborvitae trees. Here, I will go through the full eight different arborvitae trees and give you a short explanation if they are invasive or not. Hopefully, you will also get your answer here.
Emerald green arborvitae:
The emerald green arborvitae has a shallow root system that can grow and spread through the drip lines. But they are not entirely invasive if you can plant them in a closed pot.
They will remain there and won't grow outside the pot to occupy other empty spaces.
Removing Arborvitae:
The removing Arborvitae also has the shallow root that can invade your garden if they remain open and free. So, it's better to plant them in a closed pot and not allow them to move from here to there. In Particular, their roots need to be controlled.
Giant Arborvitae:
The giant arborvitae root system is a shallow type. It will occupy the nearby area if you keep them open. But when you plant them in a pot or stop the growth of the root system, they will not be invasive.
Instead, you must have a system to grow giant Arborvitae.
Techny Arborvitae:
Since most arborvitae trees have the same root system, the Techny arborvitae root system is fibrous. They will spread through their dripline and will occupy the nearby area.
But they are still not invasive like the actual invasive trees; you cannot expect that from this tree.
American pillar arborvitae:
If you plan to grow systematic plants, you must grow American pillar arborvitae plants. They will give you the best experience of growing this plant. However, the American pillar arborvitae has a fibrous system. It will try to be invasive, but it can't grow that way.
Degroot's spire arborvitae:
The degroot's spire arborvitae is not invasive; they are neat and clean. If you love to plant these trees, you need to make a system of growing and maintaining these plants. It will take a few things to grow them better than anyone else.
North pole arborvitae:
The North pole arborvitae root system is fibrous. It will also try to penetrate and occupy the nearby area. If you have any concerns regarding the north pole arborvitae, you must plant it accordingly and in a closed pot.
Thuja arborvitae:
It's not any exceptional type of arborvitae plant. It's more like a similar plant that will come with the same root system mainly; the Thuja arborvitae root system is also fibrous. It can spread and occupy the area by spreading its roots.
But it's not entirely an actual invasive plant.
Does Arborvitae have deep roots?
Arborvitae doesn't have a deep root. It has shallow roots that can only go through 8-20 inches deep. But it will be enough to plant in your garden to increase the overall beauty. This root system is also helpful in growing this plant in a closed pot.
If you have any concerns regarding its invasiveness, you must plant it in a pot.
Moreover, the arborvitae trees are all about neat and clean maintenance. If you have any concerns regarding its cleaning and maintenance, your garden will mourn from it. So, always try to clean the Arborvitae, not allowing its root to overgrow and spread.
Apart from that, the root is only about a foot. It doesn't have a strong penetrating system or intention. It will only go through the soft soil and will try to spread nearby. If you plant it in a pot, it will fail to use the nearby area. Thus, you can easily control this tree from invasion.
How Deep Are Arborvitae Roots?
Arborvitae roots dug deep up to 8 to 24 inches deep. Arborvitae trees are tough and fast-growing trees suitable for natural fencing or garden ornaments. Arborvitae trees contain very strong roots. Arborvitae roots are quite fibrous and strong in nature.
They spread quickly and absorb moisture to help the tree stand against different drastic weather. Different varieties dug differently in the soil. Smaller varieties have a shallow root, penetrating the ground up to some inches.
Where wider varieties need to be dug deep to support the tree, its roots dug deep up to 24 inches.
Are Arborvitae Roots Invasive?
Arborvitae roots are not that invasive. Arborvitae trees are an evergreen best option for fencing and gardening; these trees are very fast growing. Fast-growing trees do need a supportive spreading root.
Some fear this fast growth of roots, but It is not that invasive. The roots of Arborvitae trees are mostly shallow, and they don't dig very deep.
So, you don't need to fear that it can hamper the building or other structures and pipelines. Arborvitae roots are not aggressive in nature; if you are still concerned about that, you can use spacing between the trees or the root barrier.
Apart from that, the abrasiveness will mostly depend on the types of the tree. If you buy the invasive tree, they will cause trouble for you. So, you need to use the closed pot to restrict the growing area.
Can Arborvitae roots damage foundation or pipes?
Arborvitae roots cannot damage the foundation or pipes. The roots are impossible to posture any issues and less of a concern in the event the establishment is fundamentally sound. Arborvitaes are not known to create surface roots that may lift or break the walkway.
Concerns around tree roots harming establishment dividers are by and large profoundly exaggerated. Growing on a level plane this way is one of the key highlights of stringy root frameworks. Stringy roots, too, tend to be exceptionally lean.
So even though they can develop moderately wide, it would be difficult for them to do critical harm to the establishment or other angles of your home.
Do Arborvitae spread or multiply?
Arborvitae, in general, tends to spread rather than multiply. Arborvitae trees have a shallow and sinewy root framework that spreads out rather than down. The roots are as wide as the tree's cover, so they are not considered invasive.
One of the extraordinary things about a more or less coniferous tree is that the roots don't unfold much farther than the circumference of the cover of the tree.
They may spread a small past the canopy, but they won't spread a few feet past the canopy to a point where they would meddle and cause harm to other structures.
How to remove Arborvitae Roots?
Removing arborvitae roots is challenging. You must follow a rigorous process of removing this tree from your garden. But the thing will be changed if you know the perfect way to remove this plant. Let's follow some simple steps to remove arborvitae roots.
Plan:
Utilize your plant hose to immerse the soil around the tree with water. To successfully fulfill this, you'll have to run the hose for at least 10 minutes.
Cut:
Use your chainsaw to cut down the arborvitae roots. If you do not have a chainsaw to help with this handle, utilize your hatchet to cut a massive wedge into the stump of the arborvitae tree.
Remove:
Consider splashing the soil around the stump with your plant hose to extricate the roots some time recently, preparing to burrow up the stump from the soil. You'll have to deliberately wedge the scoop beneath the stump in a few areas.
Once the stump has been liberated from the soil, carefully expel it from the gap and fill the space with the soil you expelled, burrowing the trench.
Final Thoughts
The Arborvitae is not invasive since its root system is fibrous. It will only spread a few meters and go deep into several inches to two feet. That's not the actual characteristics of invasive trees. But you must be careful about its free growth since it can occupy the nearby area.